Elettrondata's story
An Italian company in the world
The story of Elettrondata starts in 1973 as a manufacturer of electromechanical panels, electrical systems and dedicated electronic boards.
In the 1980s the first epochal change for the company took place, with the advent of Personal Computers and PLCs, Elettrondata anticipated the way in which automation and production control would be understood in the years to come and began to develop applications software for the automated management of plants and machines, investing in emerging digital technologies based on microprocessors.
Thus a rapid structural evolution of the company began which, from an electronic board manufacturer, became a manufacturer of software based systems built on highly commercial, more reliable and competitive hardware.
The excellent performances obtained on the market have attracted the attention of professional investors; since 2008 Elettrondata is owned by Aliante, a financial partner with presence and investments at a global level, with the aim of making it not only an Italian leader in certain market segments but a player with a deep-rooted international presence
Today, at the dawn of industry 4.0, Elettrondata is one of the leading companies in the field of plant automation, which can boast thousands of successful installations in Italy and around the world.
Our vision
Developing and engineering methods and processes capable of adapting to continuous technological innovations, limiting obsolescence.
Propose solutions created to grow and develop over time, which faithfully follow the changes necessary for each production activity that intends to remain competitive and innovative.
Investing in the continuous training of human resources to offer the best solutions by diluting the heavy investments necessary for the development of the application, not only on the single application, but on a large number of implementations.
To seek a strong partnership with our client integrating ideas, people and technologies to achieve results that are always better and closer to their needs.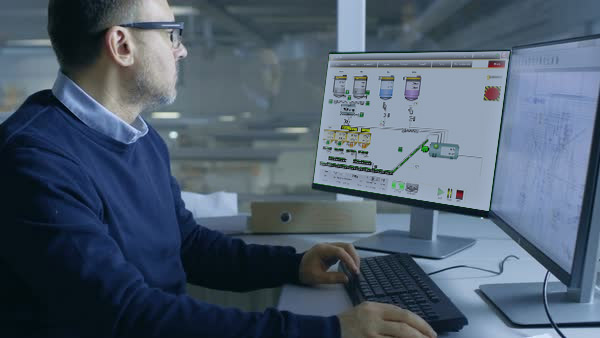 Mission
Offer a complete service that comes from the collaboration with those who set up the plant to create the optimal control solution. Our path starts from a feasibility analysis that continues with the technical design of the equipment and with the writing of the software based on the customer's needs. We then move on to the construction part to provide "turnkey" equipment that has been tested and tested in the field, ending with the after-sales service.
Thanks to our international profile we are counted among the best known Italian companies in the sector. Our goal is to consolidate this presence.
Certified Quality
Since 1999 Elettrondata is a UNI EN ISO 9001 TUV certified company, in 2003 it has been upgraded to VISION2000. We are qualified as metric manufacturers since 1987 and in 2011 we obtained the NMI tax metric certification for the ED640 weighing instrument.